Small Paintings of a Bigger Picture
left: Small paintings made with mixed media on lint roller-strips put in flip-albums (surface material includes patinas, dust, petals, sand, sequins, crystals, feathers, moss) on
dimensions variable (each painting 15 x 22 cm)
right: of a Bigger Picture collage (adhesive dots on paper)
Small Paintings of a Bigger Picture
installation shot inside the Hohensalzburg (Salzburg Fortress), from where Johann Michael Sattler painted his famous Sattler Panorama (1825-1829). The collage to the right of the free-standing wall connects directly to the view outside the two windows.
The Sound of Music Pavilion & Schloss Leopoldskron
top: The Sound of Music Pavilion sand and leaves taken from the octagonal base from the garden pavilion at Hellbrunn where the iconic song Sixteen going on Seventeen was recorded for The Sound of Music (1964)
bottom: Schloss Leopoldskron (Kitchen, Library and Mirror Room) pavement splinters from the library of Max Reinhardt and sweet crumbs from parquet flooring under the buffet table in the mirror room.
Zauberflötenhäuschen
The Zauberflötenhäuschen is a little house inside which Mozart composed his most famous opera, Die Zauberflöte.
moss taken from the Kapuzinerberg where until 1948 the so-called Magic-Flute Hut stood; the hut was transported to Salzburg from Vienna but had to be taken down for conservation purposes after suffering damage during WWII.
Small Paintings (close up: Steingasse)
far left on wall: Steingasse is the concentration of moss taken from the façade of a house in Steingasse, one of Salzburg's historical streets located under the Kapuzinerberg and partly parallel to the old city walls surrounding the Franziskischlössl. This house was damaged when a US army tank got stuck in between the street's walls and tore off its top-layer, the yellowed wall-coating. This wound to the collective memory of Salzburg - a bare stone wall - is partly covered in moss today. Steingasse is the product of this wall having been cleaned.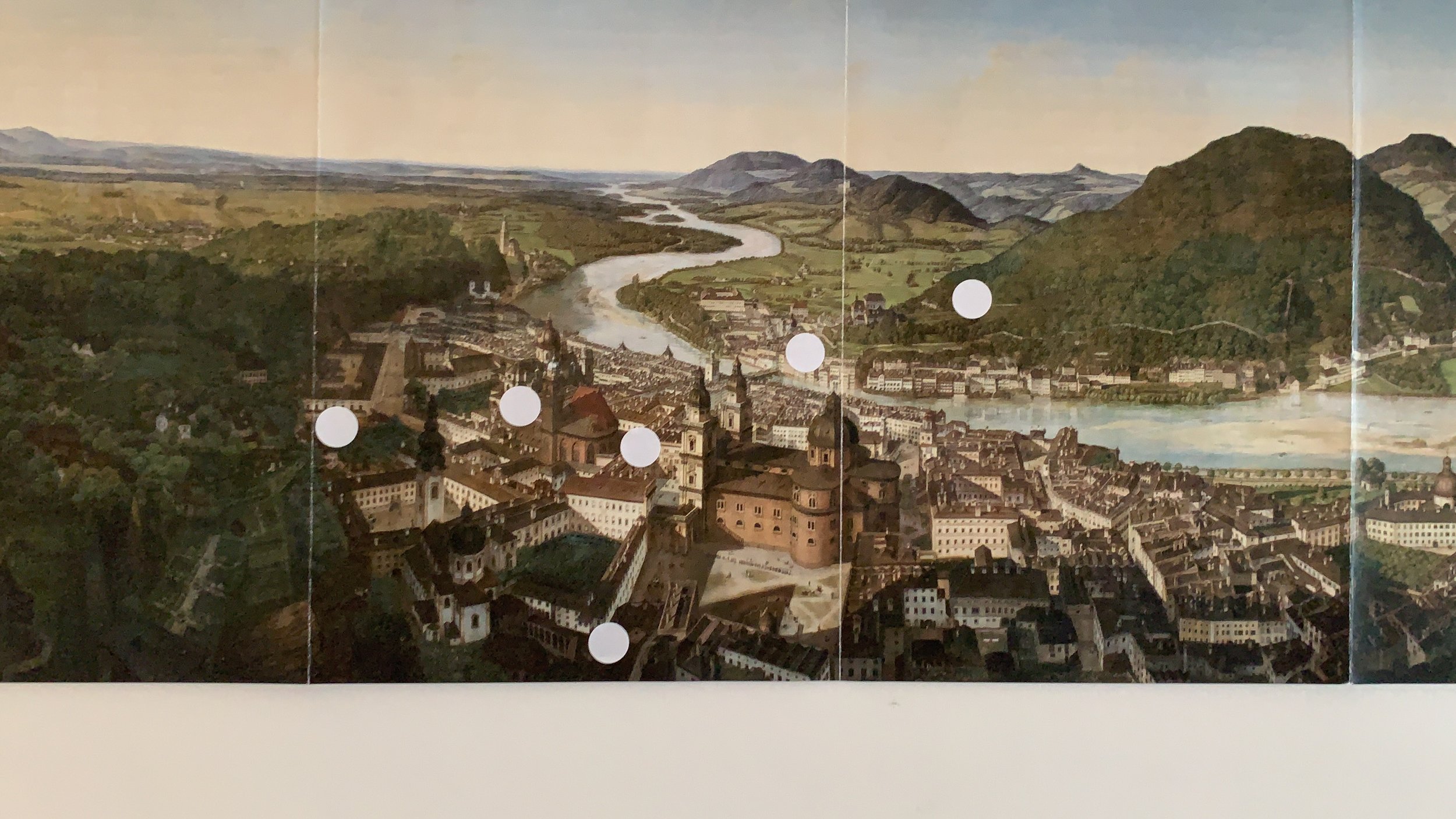 of a Bigger Picture
detail view of of a Bigger Picture, after Johann Michael Sattler's panorama painting of Salzburg completed 1829
The white dots correspond to sites visited in order to obtain dust and patina for Small Paintings. They form both a trail and trace of a performance.
Small Paintings of a Bigger Picture
2019
mixed media
dimensions variable
Small Paintings of a Bigger Picture is the scan of a city made with surface dust from sites that hold socio-historical and cultural weight, so as to reflect wider narratives. Home to Mozart and the Salzburger Festspiele, Salzburg during summers has turned into a Baroque stage for mass tourism. In an attempt to bridge seemingly disparate stories, Small Paintings offers itself as an alternative souvenir. Its pigment-like consistence may be one attribute that qualifies it as a painting, hence also appropriate to the notion of malerisch (German for picturesque). As an outcome built on collective experience and memory, however, it equally functions as a living archive demanding continuous maintenance and questioning.
Surface particles and patinas from theatre stages known to Arturo Toscanini and Maria Callas as well as bread crumbs from century old bakeries movie sets from The Sound of Music bridge Salzburg's famous and its more denied histories. Pretending to be a guest at a wedding reception in order to gather dust from what was once the library of Max Reinhardt who had to flee Nazi occupied Austria is one example of this work's performative aspect and its aim to revealing layered histories of and within sites, regardless of which national or generational category they have been ascribed to.