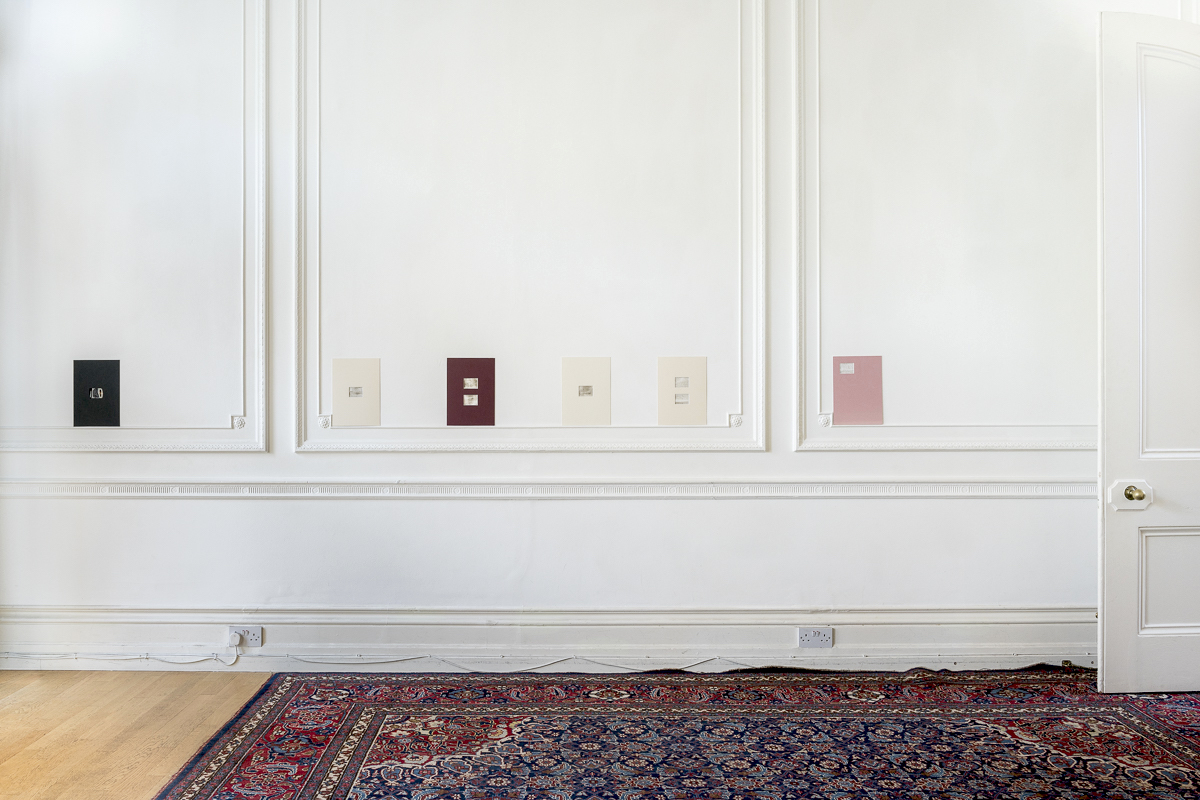 Aus den Augen aus dem Sinn (Out of Sight Out of Mind)
installation view of what can be read as a timeline: material taken from Vienna, then London presented left to right, implying a chronological reading
mixed media (surface dust from Sigmund Freud's carpet in Maresfield Gardens, pavement splinters from Berggasse 19 and polaroids)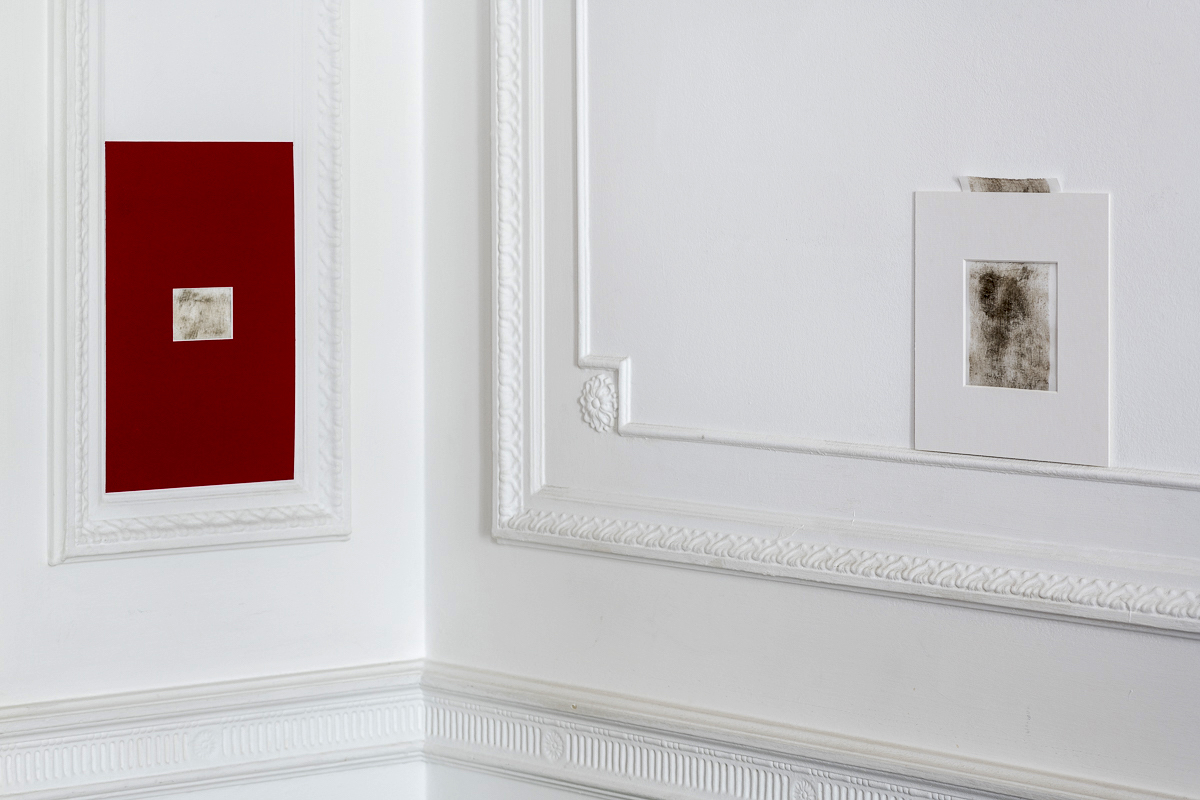 Berggasse 19
Berggasse 19 is one of several variations on a theme: surface marterial taken from Sigmund Freud's home and work place in Vienna. On view here: dust from Freud's balcony.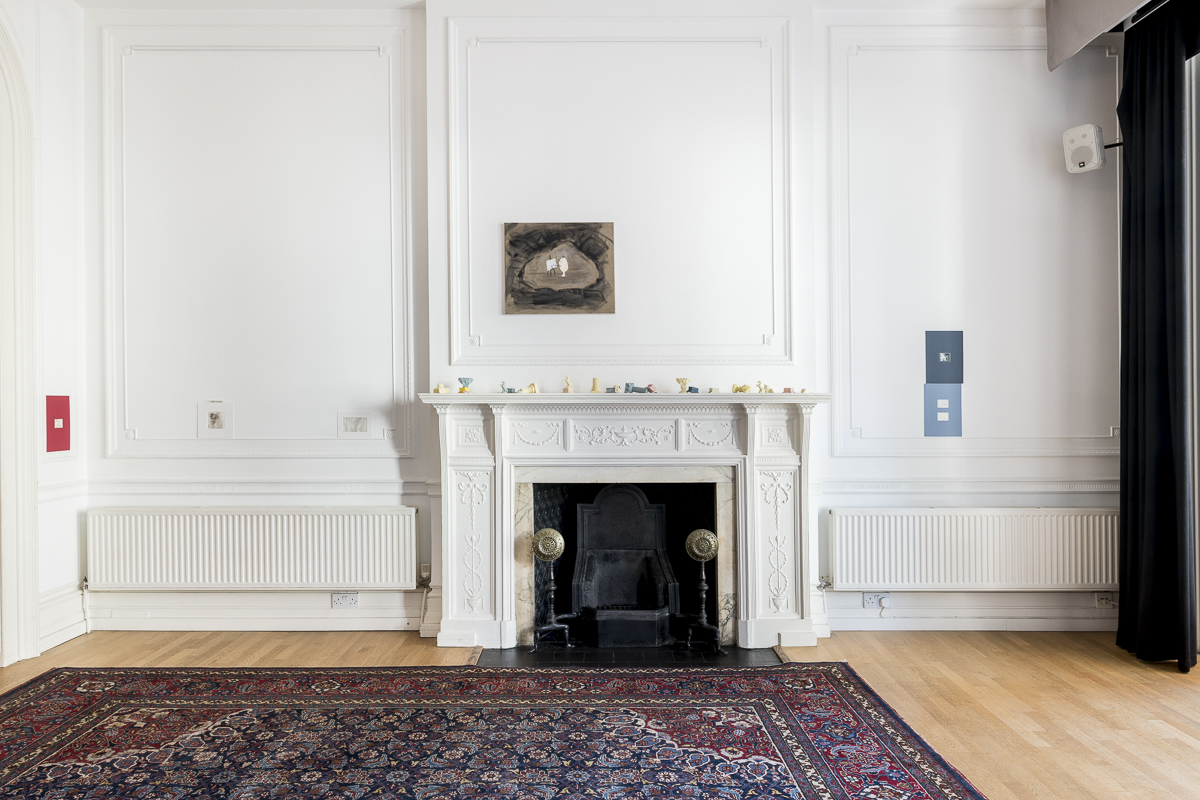 Berggasse 19 & Josephinum
Installation view of main hall of the Austrian Cultural Forum, London. Berggasse 19 (left, in red and white passepartouts) and Josephinum (right, in blue and indigo passepartouts) are interrupted. The outside walls are representative of two lives - Sigmund Freud's and Max Neuburger's - affected by Austria's Anschluss to Germany in 1938. Neuburger was the head of the Josephinum where Vienna's Anatomical wax models dating back to Emperor Joseph II, brother of Leopold of Tuscany, are housed. The Viennese collection is the same in substance as that of the Museo della Specola in Florence and the Museo di Palazzo Poggi in Bologna. Sigmund Freud studied medicine and anatomy at the Josephinum before inventing psychoanalysis.
Berggasse 19
detail view of further Berggasse 19 samples
Josephinum
top: polaroid of the Josephinum's staircase (after architect Isidor Canevale)
bottom: surface dust removed from the railing of the spiral staircase inside the Josephinum
Newstalgia
2018
mixed media (polaroids and surface dust on lint roller strip)
dimensions variable (62 mm × 46 mm per polaroid)
(Aus den Augen aus dem Sinn) Out of Sight Out of Mind is a mixed media installation evoking a timeline marked by specific places. For Austria's year of commemoration 2018 and in collaboration with the Austrian Cultural Forum in London, Out of Sight offers two of countless insights into emigration from Austrians during WWII to London.
This media installation functions as a timeline relating to the years 1938 - 1939 and interweaves surface particles taken from the living and working places of two men: Sigmund Freud and Max Neuburger. The founder of psychoanalysis had left Vienna's Berggasse 19 for Maresfield Gardens 20 in Hampstead. The first address - Vienna's Freud Museum today - is currently under building works for a new opening in 2020 whereas most of Freud's Viennese interior and exhibitions related to his life and work take place in his last home in London.
Max Neuburger, who prior to 1938 was the head of Vienna's Medical Faculty and its Anatomical Institute, the Josephinum, left for London to work at the Wellcome Historical Medical Museum. He returned to Vienna, discouraged to take up his earlier position, and died there in 1955.
For further contents about the exhibition, please visit https://www.acflondon.org/events/newstalgia-exhibition/