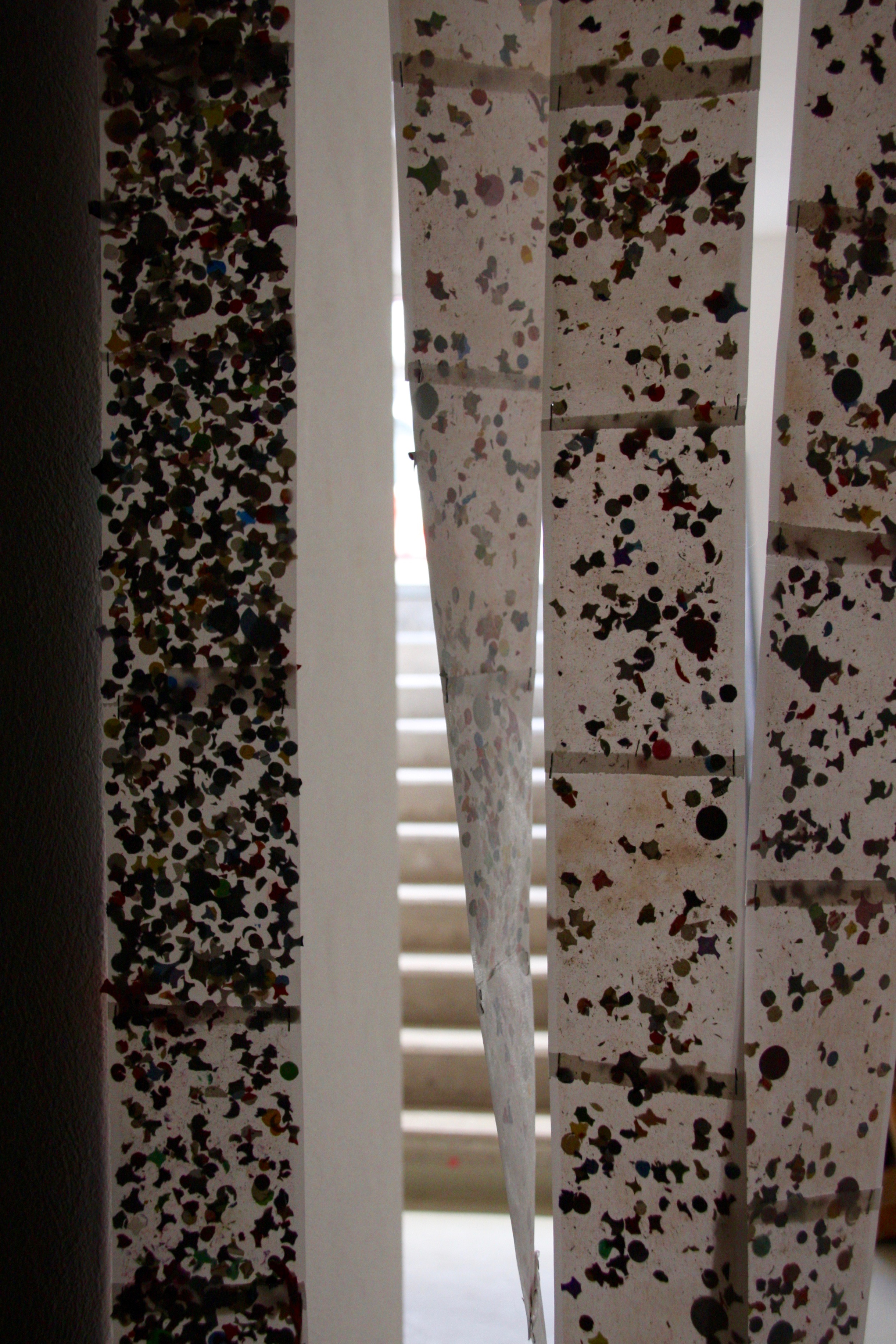 Party's Over
"As many languages you know, as many times you are a human
being."
As much as this thought by T. Garrigue Masaryk* proves inspiring and reassuring, a distance between these languages and their cultures remains if one does not work towards finding a universal vocabulary to connect them. Human history has shown that misunderstandings tend to feed conflict leading to wars as the inevitable finale.
Raised amidst five European cultures, Lara's work frequently explores notions of communication as both a necessary and an arduous thing. Language-based anxieties and the inevitability of misunderstandings provide frequent undertones that aim to present various ways in which nations and generations clash.
Using lint-rollers, she takes the dermis (skin) of one place and transplants it as a surface to elsewhere, thereby addressing a variety of themes and symbols: INCLUDING obsessive cleaning, evidence, and disintegration. In response to a world spinning to frenetic rhythms of incompatible political systems, her work aims to amplify the phrases we so often use but need to weigh far more: "putting one's self into someone else's shoes" and "being in someone else's skin."
As with Party's Over, collective experience finds expression through a technique of surface-material collection: Lara skins the surfaces of places and objects that are socio-historically relevant. Merging an approach that reflects both performance and forensics, the artist herself becomes a palimpsest of the stories these places hold. Whilst trauma and its transgenerational effects feature prominently in Lara's current research, she is also interested in collecting and translating material pertaining to more jovial culture-historical contexts such as Carnevale in Venice. Lara's work ranges between these poles for as they equally represent cornerstones of humanity and a language that can be understood universally. 'Party's Over' looks at battles and festivities as socio-cultural phenomena, implying that what came before maywell return. Beginnings and endings remain relative and what lies in between is woven by civilization.
* T. Garrigue Masaryk; Czech politician, sociologist and philosopher who founded Czechoslovakia after WWI